Encampment River
The Encampment River starts in Colorado, and flows through the Sierra Madre Mountains into the North Platte. Much of the river is on BLM or Medicine Bow-Routt National Forest land, partly in the Encampment River Wilderness. Be sure to pick up a current Wyoming fishing regulations book, or check locally for regs.
We have listed 2 access points for you here. Each are identified by number on the map at the bottom of this page. Much of the Encampment will be reached by hiking. Get a map and hike into this great river.
Read a storyabout the Encampment.
You can find river reports and stream flow information on our reports page
Key:
Fish: B, R for Browns, Rainbows
Facilities: T, Camp for Toilets, Camping
Northern Access (1)
Go southwest from Encampment on Hwy 70 to BLM Rd 3047/ County Rd 353 (just southwest of town); follow this road to access area. A trail follows the river into the Encampment River Wilderness. It is about 15 miles from this trailhead to the trailhead near Hog Park Reservoir
Fish:R, B
Facilities: T, Camp
More info on the campground from the BLM

State Lands Access (2)
Go southwest from Encampment on Hwy 70 to BLM Rd 3047/ County Rd 353 (just southwest of town); follow this road for about three miles, then turn southeast onto FR405. The road will end in the National Forest, before going onto private land. Hike about 1/2 mile east across state land to the river.
Fish: R, B
Map from WY Game and Fish
Near Hog Park Reservoir (3)
Go west from Encampment for 6 miles on Hwy 70; turn south onto USFS Rd 550 and travel for 20; near Hog Park Reservoir, turn southeast onto USFS Rd 496. This is the trailhead to follow the river downstream.
Fish: B, R
Facilities: Camp, T
Info on camping at the Lakeview Campground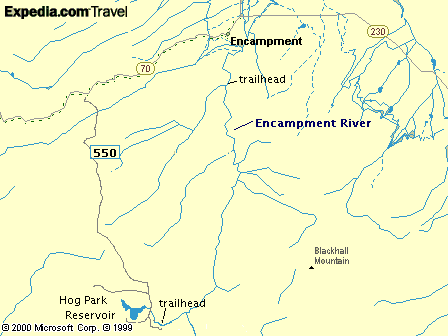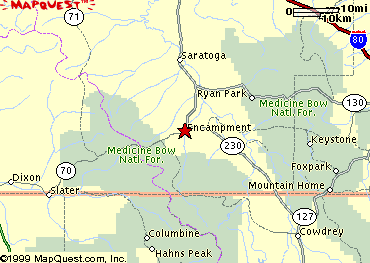 ---