North Platte River
From CO state line to I-80
The North Platte is a big river, covering lots of territory and diversity in Wyoming. There are quite a few public access points to the river. One of the best ways to fish the river is by floatingit. Most access points have boat ramps or places for put-in and take-out. Be sure to pick up a current Wyoming fishing regulations book, or check locally for regs.
We have listed 9 access points for you here. See the map on the map
Information on river reports and stream flows can be found on our reports page.
Key:
Fish: B, R, C, W for Browns, Rainbows, Cutthroats, Walleye
Facilities: T, Camp, Boat for Toilets, Camping, Boat Ramp or access
Six Mile Gap
Go east and south from Riverside on WY 230 for 25 miles. Turn East on USFS road 492 (signed as "6 Mile Rd")
Fish:R, B
Facilities: T, Camp
Info on camping - Six Mile Gap campground
Bennett Peak
Go east from Riverside on WY 230 for 4 miles. Sign for BLM Bennett Peak Campground. Turn north on Cnty Rd 660; go 13 miles and turn north on BLM Rd 3404; continue 6 miles to N. Platte River
Fish: B, R
Facilities: T, Camp, Boat
Treasure Island
Go south from Saratoga on WY 230 for 9 miles. Turn east on dirt road signed by fish and game
Fish: B, R
Facilities: T, Camp, Boat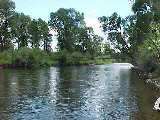 Treasure Island access
Foote Access
Go north from Saratoga on WY 130 for 4 miles. Turn west on dirt road (signed by fish and game); continue 1.5 miles to N. Platte River
Fish: C, R, B
Facilities: T, Camp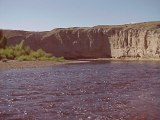 Pick Bridge
Go north from Saratoga on WY 130 for 7 miles. Turn west on Pick Bridge Road and follow for 3 miles to where bridge crosses the N. Platte
Fish: B, R
Facilities: T, Camp
Frazier
Go north from Saratoga on WY 130 for 7 miles. Turn west on Pick Bridge Road and follow for 4 miles.
Fish: B, R
Facilities: T, Camp, Boat
Ft. Steele/Rochelle
At Ft. Steele exit off I-80, 15 miles east of Rawlins. Follow S. frontage road; access for portions of 11 miles of river
Fish: B, R, C, W
Facilities: T
Interstate Bridge
At the Ft. Steele exit off I-80, 15 miles east of Rawlins; both sides of highway
Fish: B, R, C, W
Facilities: Camp, Boat
N. Platte - Colorado Side
It is popular to float from Colorado, through Northgate Canyon for takeout at Six Mile
More info on the Colorado side (which is Gold Medal and Wild Trout water)

EBook on CD in Adobe pdf format. Print the maps or descriptions you need. Available now, Fly Fisher's Guide to the North Platte click here
---