Snake River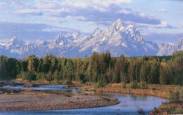 The Snake actually starts in Yellowstone N.P., traveling south through the John D. Rockefeller Parkway corridor and into Grand Teton National Park. The river flows into and out of Jackson Lake, leaving the park at its southern end. The river offers a chance to catch (and release) the Snake River Cutthroat. The best way to fish the portion of the river in Grand Teton is by a float trip.
Key:
Fish: B, C, MW for Browns, Cutthroats, Mountain Whitefish
Facilities: T, Camp for Toilets, Camping
In Yellowstone N.P.
By trail, off south entrance road (special regs in Yellowstone Park)
Fish: C, MW, B
Facilities: Camp
North of Grand Teton N.P.
About 5 miles south of Yellowstone on John D. Rockefeller Pkwy (US 191/89/287)
Fish: C, MW, B
Facilities: T
Pacific Creek
Access and raft launch. Go northwest from Moran Junction on US 191/89/287 for about 1 mile.
Fish: MW, C
Facilities:
Deadman's Bar
Access and raft launch. Go southwest from Moran Junction on US 191/89/26 for about 8 miles and look for access on the west side of highway.
Fish: MW, C
Facilities:
Schwabacher Launch
Access and raft launch. Go southwest from Moran Junction on US 191/89/26 for about 12.5 miles and look for access roadon the west side of highway.
Fish: MW, C
Facilities:
---