Floating the North Platte-
Flyfishing for the Big Boys
by K. Christopherson
The North Platte is a BIG river, one that is tough to fish from shore. Wading? Forget it at most access points north of Grey Reef. Heard about the HUGE rainbows? What better way to enjoy a great flyfishing day and hunt for those trout than floating on the river.

Yes, they really are this big. Photo courtesy Paul Kiser
Most of the North Platte, from the Colorado state line to the south and Casper to the north, is floatable in a drift boat, raft, canoe, or even solo float craft. There are numerous access points, allowing you to plan for a half day to several day trip.
One fun stretch, renown for those big 5-pound+ trout, is from Grey Reef to Lusby. The put in at Grey Reef is just below the dam. A few riffles at the start of the trip and you're off!
The river flows through rangeland, with sandstone bluffs at many of the river bends. It is easy to imagine the use of the river by explorers and native Americans over 100 years ago. It's readily navigable, even in a canoe. A multitude of birds can be spotted as well as deer and pronghorn. Take the sunscreen and bug spray - summer can get hot and buggy out there! But remember that you can float this stretch almost any time of the year.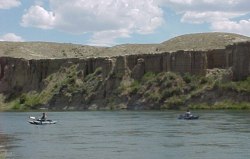 You can even float solo. Don't forget your life vest - mandatory.
Fly Fishing in this river is not the same as the fishing in that mountain stream you're used to. Bring your 7-wt rod, if you have one. Put on a leader to match, 3x, and buy some 4x tippet. Remember, we are hunting for huge, heavy trout, not pan-sized brookies! One of my guide friends, Paul Kiser, recommends using fluorocarbon leader and tippet, something like Orvis' Mirage.
Flies? First off, you need a longggg leader and tippet - between 12 and 18 feet total. You'll be fishing with nymphs and streamers - dries hardly work when floating in this reasonably deep, and mostly murky water. Try using nymphs like hare's ear, pheasant tails, prince, scuds. Weight them down with one or two BB shots - the objective is to have the fly near the bottom. You can also use a large streamer above the nymph - like a wooly bugger or other seemingly huge, attractor-type flies.
Trying to read the water? There isn't much to read - very few seams or edges. Try them if you spot them, else cast away from your craft and hope for the best. You will get strikes. The trick is to set the trout. They will run, run, run - remember that these rainbows could be big, big, big. Give them some time, and then try to land them - a net is pretty much mandatory for landing a trout on this river.

Be kind to the fish and revive him after you land him. Catch and release! A great policy.
All content and photos © Chinook Software
---

EBook in Adobe pdf format. Print the maps or descriptions you need. Fly Fisher's Guide to the North Platte click here
Access points: Click here to get information for access between Casper and I-80. For access info on the North Platte south of I-80, click here.
---