It's Not Called the Miracle Mile for Nothin'
by K. Christopherson
There is a 5.5 mile stretch of the North Platte with a nickname to live up to - the "Miracle Mile". This stretch of the North Platte, found between Kortes Dam and Pathfinder Reservoir, is well known as another of those places where you can fish for footballs.
In 1998, the average numbers for the the fish survey in the Miracle Mile were 4469 trout per mile (that were greater than 6"). Browns made up 66% of the population, with rainbows at 29% and Snake River Cutts at 5%. The average rainbow weighed 1.71 pounds! The cutts move up into the river from Pathfinder Reservoir. A good percentage of the rainbows, and all of the browns, are wild.
Numbers in 2002 were lower, approximately 2000 trout per mile. But still, the fish are there and of good size. The average (2002) Snake River Cutt was 16.6 inches and 1.91 pounds. There were less trout present in 2002 but individually they weighed more. And, there were less brown trout than previous years - good news for anglers who like the cutts and rainbows. By 2018, the number of large rainbow trout (> 20 inches) wass as high as Game and Fish had ever measured
All in all, these factors still add up that this is a fun place to flyfish!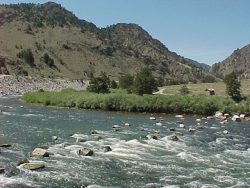 Looking north toward Kortes Dam
This is a wide river with varying flows. Be careful about where you wade - not only can flows vary, but the rocky bottom is covered with algae in most places (i.e. slippery). You will probably want to use a nymph, and yes, it will get caught in the algae. Fishing can be good almost all year; especially when rainbows are spawning in the spring and browns are spawning in the fall. Don't walk through the redds! You will be surprised how uncrowded this area is, especially if you go flyfishing in the spring or fall on a weekday.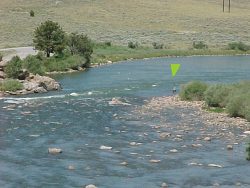 A wide river - note the fisherman just left of the bushes near the bank (arrow)
Camping is available at numerous sites along the river, with some toilet facilities available. Most are primitive sites. Click here for a link to one on Recreation.gov. Remember that fishing "the mile" means you are a long ways from anywhere, so bring along everything you need. There are limited supplies available in the area.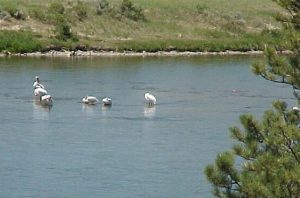 Pelicans know this is a good place to fish
How to get there:
From Casper: Take Hwy 220 south to Alcova; turn south on Cnty Rd 407; then west on Cnty Rd 351
From Sinclair: Take Cnty Rd 351 north for 45 miles (this road can get really nasty near Seminoe if it is muddy and may be closed at times)
From Hanna: Take Cnty Rd 291 north; turn west on Cnty Rd 351
River reports:
See WFN's reports page for recent reports on conditions; and for a link to the Bureau of Reclamation's page on reservoir levels. If you check the levels for Pathfinder and Kortes, you can see what their inflow and outflow are.
Regs:
Only two trout per day or in possession, with only one of the trout greater than 20". No night fishing (8pm to 6am) during the month of April.
---